About Jim's Paint & Repair
How are we different from our competition
Here we are a two man shop; Eric does the mechanic work and Jim does the body work on your car. This is very different from most shops where there will be several different managers. If you have a problem you will not talk to the owner, or even the person that fixed your car; you will talk to a manager. Because of this chain of command things get lost in communication and your car doesn't get fixed properly. Our customer service is different, we listen, you will talk to the person/persons that fixes your car; thus it will be fixed correctly.
Most, if not all of these chain body/mechanic shops are required to find other things wrong with your car instead of just the $25-$30 oil change because they don't make any money on oil changes. Next thing you know you're walking out of the shop with a $200 bill, every time. This is unnecessary and will not happen with us, unless it truly needs to be fixed.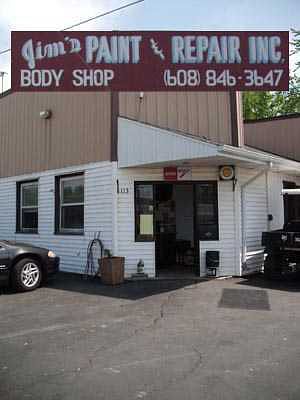 Jim's Paint & Repair is family owned and always has been. Jim started the shop out of his garage in 1976 and has grown into a body shop, and later down the road added a mechanic. Our small business atmosphere allows him to give exceptional quality because he does not have 5 mechanics and 5 body men working on different cars, there is one person working on your car which makes the quality consistent and great every visit. Our prices will beat the competitors every time. Here we are not interested in charging the most we possibly can so we can all do less work and make more money; we are interested in fixing your car at a reasonable price.
Many people are hesitant to try a small family owned auto body shop because of the warranty aspect. 9 times out of 10 the warranty comes from the manufacturer not the shop. No matter what shop you go to if there is a warranty you will be covered.